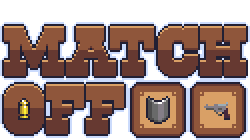 Match-Off
Memory match card game crossed with a turn-based, wild-west themed duel.
Credits:
Game by Ori Brusilovsky
Music and SFX by Zevik Perry
Font: MatchUp by somepx
Build with Godot Game Engine
made for MakeGamesJLM December Jam. Theme: Memory

Download
Also available on

Comments
Log in with itch.io to leave a comment.
i was looking for inspiration to make card battle turn based. and i found this! i really enjoy this game :-D
I think it makes more sense that the player is "Pancho" and the enemy is "red"
Two evenings in a row that we play this game.
No doubt: it's a lot of fun! congratulations!
Very cool game! Had much fun playing it, very smooth game with AI and with multiplayer!
Very nice, glad you added the AI so quickly. Art is solid too, I like how the hats are jumping around.

A sweet little two-player game! I wish there was some kind of AI I could play against. Nicely done!
Adding AI player is on the list, right after adding some juice and polish.